ARKANSAS COMPETES IN THE NEWS:"Tim Griffin: Passions, Not Plans, Guide Political Path"
---
Article Originally Appeared in Arkansas Money And Politics.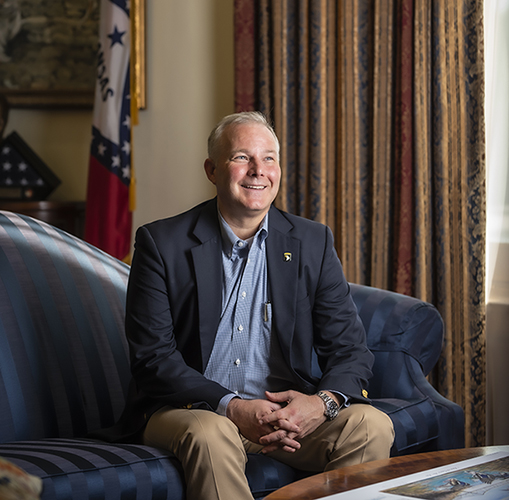 From his early days to college and law school, to staff positions with the Republican National Committee, to U.S. representative, to his current position as the state's 20th lieutenant governor, Griffin has been guided not by traditional career imperatives but by long-standing passions.
"It's not the traditional path where people run for local office and then stay in office. Maybe that just wasn't my path. I did a bunch of different things that if you look at it, maybe don't look like one part of a specific plan. I was just pursuing jobs and opportunities that I was interested in and that I enjoyed," he says.
….
"I tell people all the time, 'whatever disadvantages you have in terms of your money or background or education, hard work has an amazing way of just crushing barriers and obstacles,' right?" Those opportunities started rolling in after the 2000 election for Griffin. He took a position as a special assistant to Assistant Attorney General Michael Chertoff and was called back to serve as the research director and deputy communications director for President George W. Bush's 2004 re-election campaign. Griffin was present for one of the most dramatic moments in the last 20 years' political history – the 2000 Florida recount. In his capacity as an RNC official, he served as an adviser for the recount, which ultimately gave Bush the electoral votes to win the 2000 election. The Florida recount wasn't just momentous to him because of the end result. For Griffin, it was a moment that brought together the campaign supporters in a heightened environment to make history. "I remember Thanksgiving of 2000, we were in Florida at a hotel and Fort Lauderdale…vice-president-to-be Cheney was in the hospital. He had had a heart attack, and they served us all Thanksgiving dinner in Florida at that hotel – hundreds of the Bush people with the campaign," he says. "Wayne Newton was a big Bush supporter, and he was there. So, he got up and sang 'Danke Schoen.' It was just really surreal memories like that." Griffin put another important notch on his belt after the election – snagging a White House job as the Special Assistant to the President and Deputy Director in the Office of Political Affairs. In this role, Griffin oversaw appointments for the Bush administration and ensured that the appointments reflected the values of the president. His time in the White House was limited, though, by his mobilization in the U.S. Army. Getting mobilized was closer to a "normal job" than serving in the White House, Griffin jokes. The pressures of working in the White House are intense, regularly requiring long hours as a staff member. "Those six months in the White House, though, were equivalent to working two years in a normal job," he says.
….
Griffin came back to the forefront of public consciousness in 2009 when he decided to put his hat in the ring for an open congressional seat. Vic Snyder, a 14-year Democrat incumbent in Arkansas' second congressional district, stepped down, triggering a race for his replacement. The decision to run prompted some soul-searching for Griffin. Even though he was at this point a seasoned political operative, Griffin had never put his own name on the ballot. Now 41 years old, he was looking to jump into the fray himself. "And so, I think when you're making decisions about what you want to do in life, you rely on your faith and prayer for guidance," he says. "Do I want to or should I pursue this, should I pursue that? And one example where I think my faith led me to a very clear, crystal clear decision was whether to ever get into elective politics at all. It's not for everybody. And I had been involved as a staff person for years." In the end, he decided to run, and during the 2010 election, Griffin defeated his Democratic Party challenger, Joyce Elliot, capturing more than 57 percent of the vote to her 38 percent. Despite the wide margin, Griffin insists that the race was not an open-and-shut case. "There was a lot of uncertainty there," he says. "It wasn't like I got in and there was an open seat, or like I got in and it was a Republican slam dunk. It was quite the opposite." Winning this previously Democrat-controlled seat was evidence, Griffin says, of the party's slackening grip on the state's politics and the rise of the Republican Party in Arkansas. He attributes this shift to the difficulty of keeping a diverse coalition of beliefs and viewpoints together and Arkansans embracing the Republican Party's conservative platform.
….
Griffin served two terms in Congress, became Assistant Whip for the Majority Party, and was a member on the powerful House Committee on Ways and Means, which he calls a "real honor." Serving on the Ways and Means Committee also allowed him to focus solely on that committee instead of serving on multiple committees, which prevented him from honing in on policy issues. "No sane person could be an expert on four committees in Congress. It's just too much. So, what you end up doing is getting a little bit from here, a little bit from here, and you're never able to truly dig down," Griffin says. "I remember running down the halls in my suit from committee meeting to committee meeting because I was in a hearing in one, and I had to run around the corner to judiciary to get my vote in and run back." After two terms, Griffin announced that he would not run again for his Congressional seat. His children were getting older at that point and noticing that he was not spending as much time in Arkansas. There were opportunities waiting for him in Washington, he knew, but Griffin decided to pack his bags and return home to Arkansas. "It became crystal clear to me that despite the agony over the decision, I needed to be back in Arkansas," he says. "But when I said I'm not going to run for another term, people thought I had a grand plan; I didn't have a grand plan. It looked slow and messy at the time. It's decision to decision." An opportunity struck when former Lt. Gov. Mark Darr resigned in 2014, opening up the office for election. Griffin mounted a successful campaign to be Arkansas' lieutenant governor, winning 57 percent of the vote. One of Griffin's passions as lieutenant governor has been community service. As an elected official and a member of the armed forces (Griffin currently is a colonel in the U.S. Army Reserve), he is no stranger to public service. He has championed prison anti-recidivism efforts, along with his wife, Elizabeth.
….
What lies ahead for Tim Griffin? When asked, he gives a sly smile and a general answer that he is "thinking about the future a lot." After all, Gov. Asa Hutchinson will be terming out, opening the governor's office in the 2022 election. Griffin is the first individual to make headlines as a locked-in candidate for the race, but he likely won't be the last. In a move that heightened his profile, Griffin appeared in a 30-second TV spot earlier this fall for the nonprofit group Arkansas Competes, in which he advocates for lower taxes and STEM education.
….
While he says that he is planning to run, Griffin has not made a formal announcement yet. Those announcements are planned for later as the election moves closer. But if history is any indicator, don't stand between Griffin and an opportunity – he's got a winning record.